Settlement Permit and EU - Long Term Residency
The immigration law provides the right to obtain a permanent residence permit ("settlement-permit") after a certain time of legal residency. A settlement permit is an unlimited residence permit that allows any economic activity and does not incorporate any subsidiary provision.
A permanent residence permit can be issued basically if the following requirements are fulfilled:
possess of the residence permit for at least five years
proof of sufficient means of subsistence
payment into the statutory pension scheme for at least 60 months or proof of similar pension
no conviction for a mayor crime
sufficient knowledge of German language (level B1)
basic knowledge of the German legal and social system
Persons with refugee status or family members of German citizen can apply for a settlement permit after three years under further conditions.
Persons who have an unterminated employment which fulfills the requirement of an EU Blue Card have the right to obtain a settlement permit after 33 months with A1 language skills or after 21 months with B1 language skills.
Other "skilled workers" qualify for a Settlement Permit after an employment of 4 years, with a German degree after 2 years.
The following table shows the different requirements: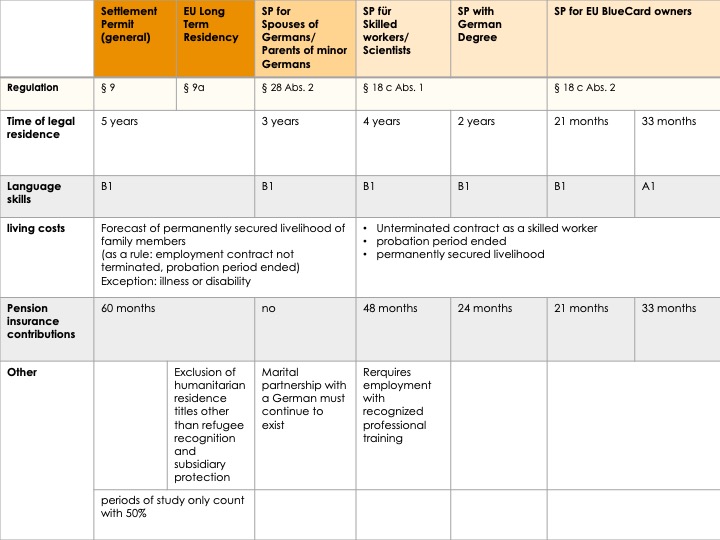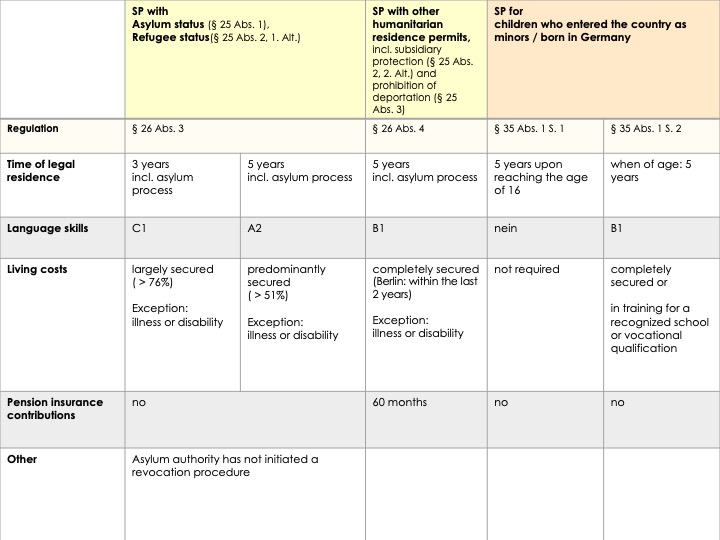 EU – Long Term Residency
The Long Term Residency-EU (§ 9 a AufenthG) is a residence title which is very similar to a Settlement Permit.
It can be issued after a legal residence of five year, but some holders of humanitarian residence permits are excluded. The title is not an EU wide residence permit, but makes the move to another EU-member state (except Ireland and Denmark) easier and allows you -other than the settlement permit- to be outside of Germany for a longer period than 6 months (12 – 24 months outside of the EU countries, 6 years in another EU country).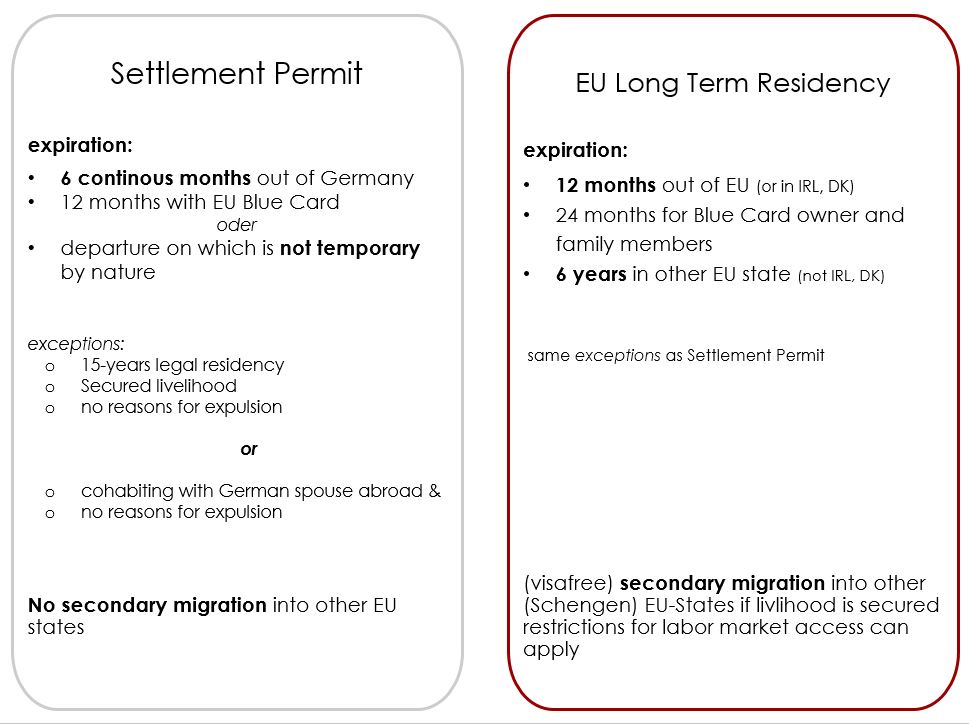 If you have an EU Permanent Residency issued by an other member state you can apply for a German residence title under § 38a AufenthG. A German title can be issued if the living costs are covered. You might need an employment to cover your living costs, but this is only allowed if the Labour Authorities confirm that no privileged person (German or EU-Citizen) is unemployed in this profession and the conditions of the employment are comparable to local employment contracts.
68 Bewertungen auf Anwalt.de
5.0 von 5 Sternen
Our Specialist in Immigration Law is Sven Hasse.